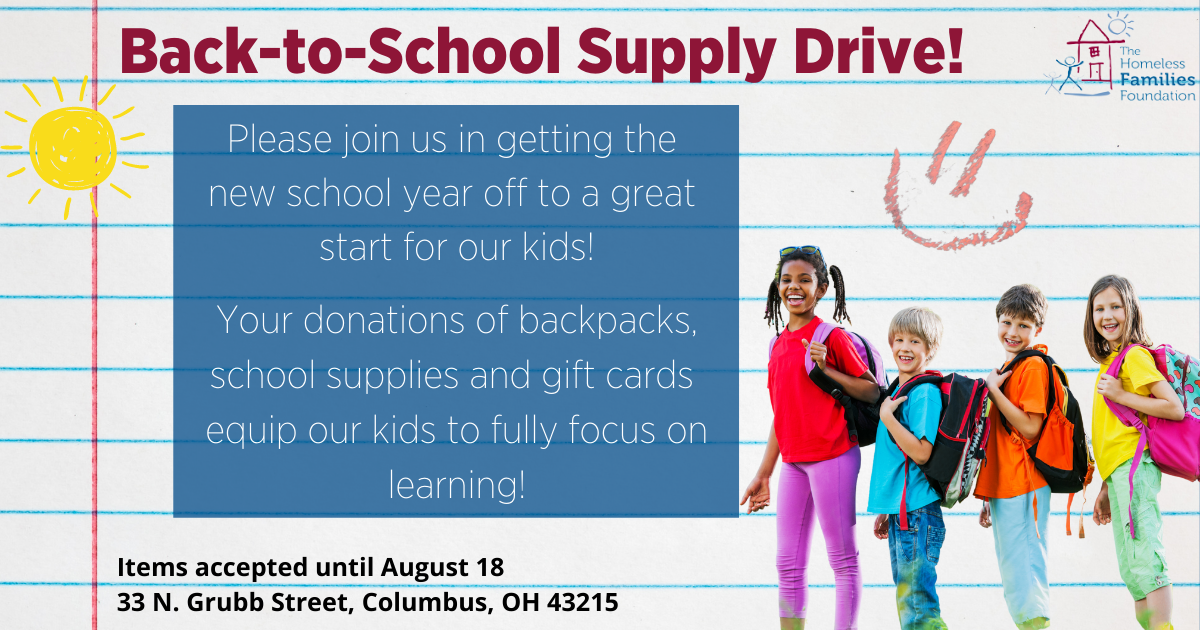 School Supply Needs
Please join us in getting the new school year off to a great start for our kids!
YOU CAN HELP by donating the items on the list below (only new supplies and backpacks, please), or by clicking HERE to support the campaign with gift cards or a financial donation. 
You may also contact Chad Gardner, Fund Development Manager, at 614-715-8551 or cgardner@homelessfamiliesfoundation.org for additional donation information.
All supplies should be delivered by Wednesday, August 18 to:
The Homeless Families Foundation
33 N. Grubb Street
Columbus, OH 43215
***Donations accepted between 10 am - 3 pm, Monday through Friday.

Thank you for giving our kids the tools they need to make this new school year a success!
Backpacks (character bags for K-5)
1" ring binders
Calculators (basic and scientific)
Plastic Pocket folders (with and without prongs)
Highlighters
Fine black Sharpie markers
Colored pencils
Markers 
Crayons
Scissors (blunt)
Clorox/Lysol wipes
Ruler
Pencil box/pouch
Composition notebooks (college rule)
Notebooks (college rule)
Filler paper (both wide and college rule)
Art smock
Graph paper
Index card
Hand sanitizer
Box of tissues
Re-sealable bags (gallon and sandwich size)