All In the Family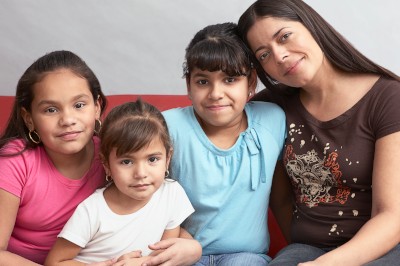 Tiffany was escaping eleven years of spousal abuse when The Homeless Families Foundation (HFF) encountered her and her three children. It took time, but with the appropriate support, Tiffany was empowered to change her situation. HFF's encouragement helped her find a new place to call home, secure employment, and sever contact with her abuser.  Tiffany explained, "With the help of my case manager I have finally taken the steps to free myself and my three children from repeated ongoing abuse."
Since the stress of the abuse has lifted, Tiffany's eight-year-old no longer worries if Dad is going to hurt Mommy. Now like any other eight-year-old, she worries if she has enough outfits for her Barbie.  The two older kids have both seen their grades improve – and have become involved in more extracurricular activities at their school. The children are happy, they are all safe, and that makes Mom very happy!
Tiffany's advice to others, "Don't be afraid ask for help even if you have to swallow your pride. Believe in yourself, don't give up. Use every chance you have to change your destiny, although it may seem difficult. Everyone has the right to live in dignity in their own home free from the fear of violence or harm."
Thank you to all of HFF's friends. Your generosity has changed the lives of hundreds of mothers who are struggling, living in poverty and want nothing more than a safe place to raise their children. Your kindness empowers them and gives them hope for a brighter future.   
Isaiah's Challenges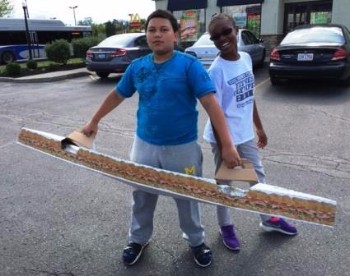 It has been a long road for Isaiah but he got a second chance and is making the best of it. Isaiah was in kindergarten when his family became homeless. The year was 2008 and that was the start of his relationship with The Homeless Families Foundation (HFF). To begin to stabilize their lives and overcome many obstacles, the staff assisted Isaiah's family by helping find housing and employment, providing financial support where needed, giving emotional support, and connecting them with other local community services.
Isaiah attended HFF's Dowd Education Center and he had a rough start. Isaiah's behavior at school and at the Center revealed his personal struggles at home. He was often angry and verbally combative. Isaiah is very intelligent but his refusal to cooperate with his teachers resulted in failing marks. 
Isaiah's home situation remained unstable for years. His one constant was the Dowd Education Center with a staff that truly cared for him. Unfortunately Isaiah had to leave our care for a short time. With the support of his grandparents Isaiah returned to the Dowd. It was his second chance and he knew it. Isaiah was a sixth grader last year and talked often with staff members about his desire to do better. Over the course of the year we saw a new Isaiah. He started performing better in school, talking to staff about his efforts to be positive and he even began to pursue his passion for cooking. He helped prepare all the food for one of the Center's family nights. Isaiah beat the odds! By the end of the school year he achieved all A's and was chosen by his teachers to attend a week-long youth leadership program in Washington, DC.
With the help of a loving, caring community of support Isaiah faced the challenges life handed him and overcame his adversities. He continues to take strides to improve his attitude, his behavior and his future. We at HFF are excited to see what this new school year brings for Isaiah and see what he accomplishes next!