2019-2020 Board of Trustees
Amit Patel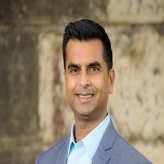 Amit Patel has served as the Director of Procurement at The Witness Group since January 2015. He oversees a 34-hotel $380 million asset portfolio and manages over $25 million in spend. He leads a team which is responsible for asset management, systems management, capital improvement, product sourcing, vendor performance, and spend analytics.
Prior to his current position, he held several positions of leadership responsibility within The Witness Group, including over 2 years as head of the corporate Accounting Department where he led the financial reporting of a $250 million asset portfolio.
Amit attended the Ohio State University, and has worked over 20 years with both commercial and hospitality management firms, with specific skills in operational efficiency, expense control strategies, and contract decisioning. He is experienced managing hotel brands within Marriott, Hilton and IHG, and has advised on commercial retail and residential developments in the Midwest region.
For the past three years, Amit has been an active volunteer at the Homeless Families Foundation. As a member of Hope Squad, he helped to organize events including Mother's Day No Show Gala, Ridge Runner Ramble, Hope Takes Flight and the Holiday Store, as well as personally donated commercial stock to the food pantry.
In his free time Amit enjoys completing projects around his home, participating in community events and supporting local restaurants around town. He also enjoys traveling abroad and spending time with friends and family.